Does anyone remember that old Nancy Griffith, folky, indie song called "From a Distance"? (I think there's a more recent schmaltzy version but I'm not even considering that). NG's anthem could almost be a theme song now, except that the song suggests that everything looks idyllic from far away and we know by now that distance only breaks our hearts. The trick is to find a way to thread presence through our days, dissolving distance and connecting us.
Sometimes I despair of this. But other times I feel that despite Covid we are really in touch.
I've sat with my close friends and poured out tea and my heart as we Zoomed together. Physical touching would have been better but seeing their faces and just talking with them for an hour completely connected us, not through the virtual world but through the tangible links of shared emotion and thought.
My husband texts my brother and one of his friends continuously as the very strange NBA Playoffs unfold from within the Disney World bubble where they are held.
My daughter and her family rented the little house next door to our quarantine cottage. For three days we wore masks, stayed 10 feet apart while we walked, gossiped and went to the beach. We only intreated outside. The days were very simple–no restaurants, no scheduled activities. We talked and ate and hugged in our hearts.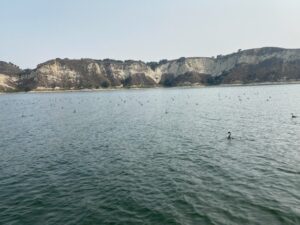 This past weekend my internet savvy and efficient sister-in-law rented a pontoon boat for a nature cruise on Lake Cachuma (deep in Santa Barbara County). The boat normally holds about 40 people but in these days of Covid its capacity is reduced by about three quarters. She rented all the available spaces, so with 5 of us plus a nature guide we were easily seated many feet apart from one another. Masks were required. I sat in the front of the boat, in the morning light and away from the boat's small sunshade, the cool (and amazingly ash free wind) blowing up in my face. We were out on an adventure–together and safe.

Of course there's hand sanitizer everywhere.
I don't think anyone will be sad to see 2020 end. But we still have to find some occasions of joy. This may take some maneuvering and thought, some willingness to change our usual behaviors. We can do this. We have to do this.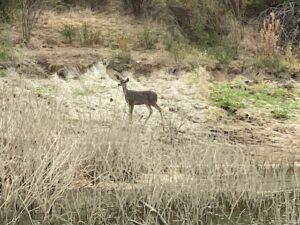 Drive-Ins, drive by visits, Zoom calls. The outdoors is our friend (we'll just have to bundle up come winter).
For a number of years I taught the novel The Road by Cormac McCarthy in college freshman English. Bleak and post apocalyptic the story's characters inhabit a space I've never wanted to imagine (and yet, now, must). There's not much (anything) to be happy about in this very dark book. But the story's two central characters–The Man and The Boy–repeat over and over that they must continue. They must carry the fire.
Long ago on the frontier sparks were hard to come by and people banked their fires and left people watching them, making certain the fires stayed alive (and contained, of course). If the fire went out some person would have to be sent often miles to another claim to borrow a bit of fire and bring the glowing coals home. They had to carry the fire.
And so do we–especially as we enter this dark fall of national and global disaster. No normal holidays for us this year. No large room of friends and relatives sitting together in a  pumpkin and a turkey flavored swoon. No decorated mall and Santa visits. No gatherings in temples or cathedrals or churches. It's just us, figuring it all out as best we can.
Together, even though we're apart, we have to light the candles and turn on the lights. We have to be creative and undaunted. Whatever it takes–your own homemade pumpkin spice latte or cards that you send or ways you contrive to meet at a distance for a moment.
We have to carry the fire.