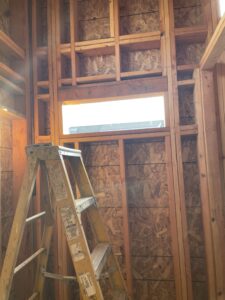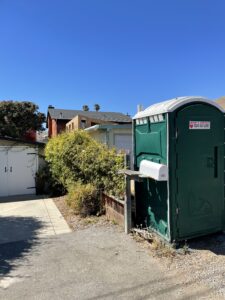 Note the port-a-potty. That's when you know that your stuff's getting real.
So here we are. In our tiny beach cottage that hopefully will be a just verslightly bigger tiny beach cottage. Hopefully. Maybe. Some day.
In the meantime I study images in magazines, books, on Instagram. But the end result is that I just feel overwhelmed with my own chaos–the sawdust and nails and noise underfoot, the noise–more noise than I ever could have imagined, the yard that so desperately needs landscaping, the garage that has become a staging area. I will never resemble those beautiful people. My yard will never be complete. My house–well, my house! (Does anyone else think that Pinterest and Instagram are like over the top holiday letters? The kind that are sent out only to underscore just inadequate and inferior you really are? Or, is it just me?)
The problem with remodeling is that it requires exactly the opposite kind of thinking than offered by living in the present. You need to live in some only scantily imagined future because the present is impossible. It's like be here never. And we all understand the problems inherent in that kind of thinking.
So I'm dreaming that someday it will be beautiful.
Really.
Of course I can hear you right now asking me why. Why didn't we just buy a different house? Or why be so greedy for more space? Why not just live in it as it was? Why change? These are all very good questions that I now ask myself hourly. But like it was for our pal MacBeth I find it as tedious (and in fact impossible) to go back as to go forward. And tomorrow and tomorrow and tomorrow? Exactly. it's definitely a tale told by an idiot. So here I am.
And, in principle, it's another way of living locally. (After all, that's not much that's more local than your own backyard.) Instead of moving we're staying. Instead of tearing stuff down we are adding on. We are keeping our footprint small. The house is a small 1950s beach cottage. We are leaning into the ramshackle style but just moving it out a bit.
With love from California's Central Coast.