I love ratatouille. I've loved it since I first had it in the long lost 1970s. I love it hot or cold. It's a very forgiving recipe so it's impossible to make it incorrectly. Still, there are a few tips to a really extraordinary feast of summer vegetables.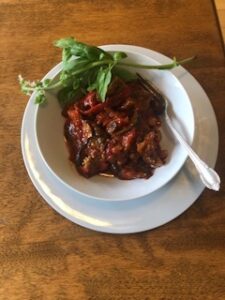 It really has to be summer. Summer. You know–hot, rose sitting pale and cool in glasses, basil fragrant, tomatoes bursting. It's no good faking it.
I love Julia Child's take, which is basically no matter how you prepare the vegetables–in a grill pan, over a hot fire, oven roasted–they must be prepared individually. You cook the onions separately and then stash them in a bowl. You cook the eggplant separately for a long while and then stash it in a bowl. You continue this process for all the veggies, only combing them at the end. I know it seems like it's more work, but really it's not and the intensified flavors reward your efforts.
You use really good tomatoes–fresh, in season, organic, perfect. If you want more tomatoes though sometimes I combine them with a can San Marzano tomatoes. Only San Marzano.
The Recipe:
Ingredients
1 eggplant, sliced into circles and then cut into sixths
3-4 small zucchinis, sliced into rounds
1 onion, chopped
6 fresh tomatoes, at least, diced
1 red bell pepper, sliced
1 can San Marzano tomatoes
1/2 cup any red wine OR 3 Tablespoons Cognac
1/3 cup basil, chopped
red pepper flakes, as desired
salt, to taste
dried fennel, oregano, basil as available
1/2 cup olive oil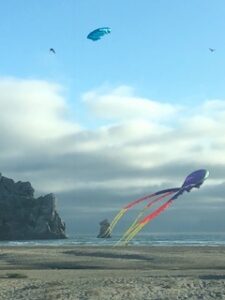 –One at a time, cook your vegetables. This is how I do it. I start with the bell pepper, move on to the eggplant and then the zucchini. I cook each item in olive oil and when its brown and caramelized I put the veggie in its own bowl. I use a heavy Le Creuset grill pan to cook but use whatever you have. You can also grill outside, 1 veggie at a time.
By the way, before I cook the eggplant, and in fact before I cook any eggplant, I wash and slice it, and then set the slices out on a paper towel. I sprinkle the slices with salt. I let them sit for about 20 minutes and then flip the slices over. After another 10 minutes I rinse off the eggplant and get down to cooking. This reduces the bitterness that eggplant can have.
When all the other vegetables are set aside I brown and caramelize an onion in a deep sauce pan. Then I add the raw tomatoes and cook until they soften into a sauce. Then I add the canned tomatoes.As the sauce thickens I deglaze the pan with either the wine or the brandy (or both!). When the sauce seems perfect, I add, slowly all the other vegetables. I season to taste and just before serving top with chopped fresh basil.
If you're not feeling anything hot at this point in the summer let your veggies cool and then refrigerate. Serve it as a cool side. And you will be the coolest.